The most effective way to maintain and improve your eye health is to have regular comprehensive eye exams. Eye exams improve your vision, protect it from damage and disease, and allow your trusted optometrist to provide expert treatment and advice on your eye health.
A comprehensive eye exam uses a variety of tests that your eye doctor uses to provide you with an overall view of your ocular health. This allows your eye doctor to guide you and recommend anything you need to ensure you're seeing at your best, whether it's glasses, contacts or vision therapy.
What Happens During a Comprehensive Eye Exam?
A typical comprehensive eye exam includes the following components:
A medical background check
A refraction test: Used to detect astigmatism, nearsightedness, or farsightedness.
Preliminary vision and eye health assessments, including colour vision, depth perception, peripheral vision, and pupil check
Comprehensive testing for eye diseases such as glaucoma, diabetic eye conditions, and cataracts is also included in routine eye exams. Noninvasive diagnostic tools are typically used to examine your internal and external eye structures.
Medical Background Check
People commonly believe that optometrists only need information about a family history of eye problems, it's the optometrist after all. While this isn't untrue; you should also notify your optometrist if you have a family history of other health issues as eye doctors will look for diseases that appear unrelated to eye health.
Refraction
A refraction test is a fairly quick and easy procedure. To test your vision, your eye doctor may use a phoropter, which is a piece of equipment covered in dials, switches, and lenses.
The optometrist will instruct you to look at a vision chart that is either 20 feet away or appears to be 20 feet away when reflected in a mirror using the phoropter.
You may be familiar with this chart, which is covered in bold, black letters that are larger at the top and gradually get smaller as they move down. The optometrist will adjust the lens powers on the phoropter, shifting or flipping them to see which lenses give you the clearest view.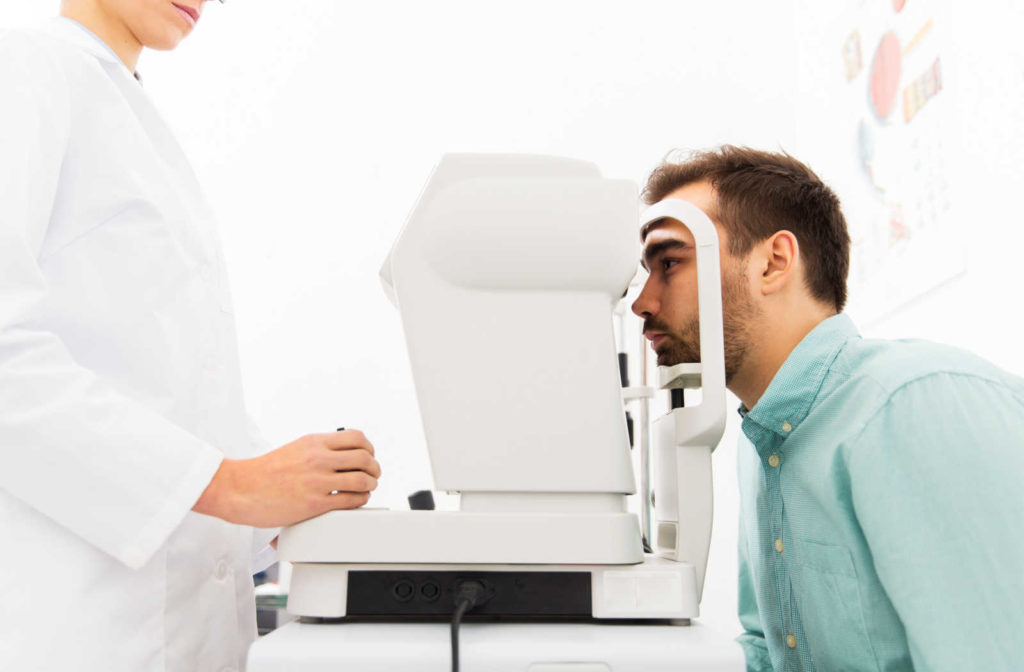 Eye Health Assessments
Contact Lens Eye Exams
A contact lens eye exam differs from a standard comprehensive eye exam in that it includes additional measurements to help determine the shape and size of your eye's surface, as well as your ideal contact lens type.
Why Should I Get My Eyes Checked Regularly?
Preventive healthcare includes regular eye and vision exams. Many people are surprised to learn that a comprehensive eye exam can reveal information about a person's overall health as well as vision. Several systemic diseases can be detected, including:
Diabetes
High blood pressure
Glaucoma
Heart Disease
How Long Does a Comprehensive Eye Exam Take?
Knowing how long an eye exam will take will allow you to prepare and save time. To speed up the process when you're checked in, have your insurance card and photo ID ready. You should also bring a list of your family's medical history as well as symptoms of vision loss to discuss with your eye doctor.
Eye exams typically last about 30 minutes. However, depending on your vision requirements, they may take longer.
Book an Eye Exam at Calgary Optometry Centre
The timeline of how often you should have an eye exam is largely determined by your specific eye care requirements. However, general guidelines are in place to assist you in determining the frequency of follow-up exams.
Yearly eye exams are recommended for children
Eye exams at least every 2 years for adults
Is it time for a comprehensive eye exam? If you're experiencing any changes in your vision, or if you just want to keep up with your ocular health, book an appointment with the team at Calgary Optometry Centre. We're here to ensure that your vision health is taken care of in a friendly, comfortable environment!