Just as you get regular check-ups and dental exams, eye exams are an essential part of maintaining your health. But how do you know how often you should get an eye exam? The answer depends on whether you wear glasses, how old you are, and whether or not you have any other medical conditions.
Read on to learn more about the importance of eye exams, how often you should get one, and what you can expect during your next appointment.
Why Do You Need to Get an Eye Exam?
Regular eye exams give your eye doctor the chance to examine your entire visual system, but eye exams are about more than just updating your prescription. When your eye doctor checks your eyes, they assess your overall health and can detect an array of issues, including:
How Often Do You Need an Eye Exam?
There are several reasons why you may need an eye exam. You should always see your eye doctor for a regular eye exam, but you may need to see your eye doctor if you have health concerns, eye injuries, or if you're suffering from vision symptoms.
Regular Eye Exams
The Canadian Association of Optometrists recommends the following eye exam schedule for adults:
Age 20–39: Every 2–3 years
Age 40–64: Every 2 years
Age 65+: Annually
While this exam schedule is suitable for most people, your eye doctor will recommend that you have your eyes checked more often if:
When You Are Experiencing Symptoms
If you are experiencing any vision symptoms, you should always book an appointment with your eye doctor as soon as possible. Some common vision symptoms you may experience include:
Children's Eye Exams
Just as it's essential for you to get regular eye exams, your child should see their eye doctor regularly too.
The Canadian Association of Optometrists recommends the following eye exam schedule for children:
Birth to 2 Years: Your child shout get their first exam
Age 2-5: Your child should get their second exam
Age 6-19: Your child should have an exam annually
Diabetic Eye Exams
If you have diabetes, a diabetic eye exam can help protect your eyes from serious sight-threatening eye diseases. Diabetes is a condition that affects your blood sugar levels which can cause damage to the blood vessels in your eyes.
A diabetic eye exam allows your eye doctor to diagnose and manage diabetic-related eye conditions such as:
Contact Lens Exams & Fittings
If you wear contact lenses, you must see your eye doctor for a proper contact lens exam and fitting. Doing so is important for your comfort, but also your health.
During a contact lens exam, your eye doctor will assess your eye health and measure your eyes so they can help you find the best contact lenses for your vision needs.
What Happens During an Eye Exam?
A typical eye exam lasts about 30 minutes to an hour. During an eye exam, your eye doctor will update your prescription, assess your overall vision and perform a series of tests to check for vision problems and eye diseases.
Some of the tests you can expect during an eye exam include:
Visual acuity test: During a visual acuity test, your eye doctor will test your near and far vision by getting you to read letters of the alphabet from an eye chart.
Refraction test: If you wear or need glasses or contacts, your eye doctor will perform this test to check for refraction errors and find your prescription. During this test, you will look through a binocular-like device called a phoropter.
Fluorescein eye stain test: For this test, your doctor will place a dye called fluorescein onto the surface of your eye to see if you're suffering from any cornea damage.
Keep Your Eyes & Vision Healthy
While getting regular eye exams is an important part of staying healthy, there are many other ways you can take care of your eyes and vision health outside of your optometrist's office.
To keep your eyes healthy, you should: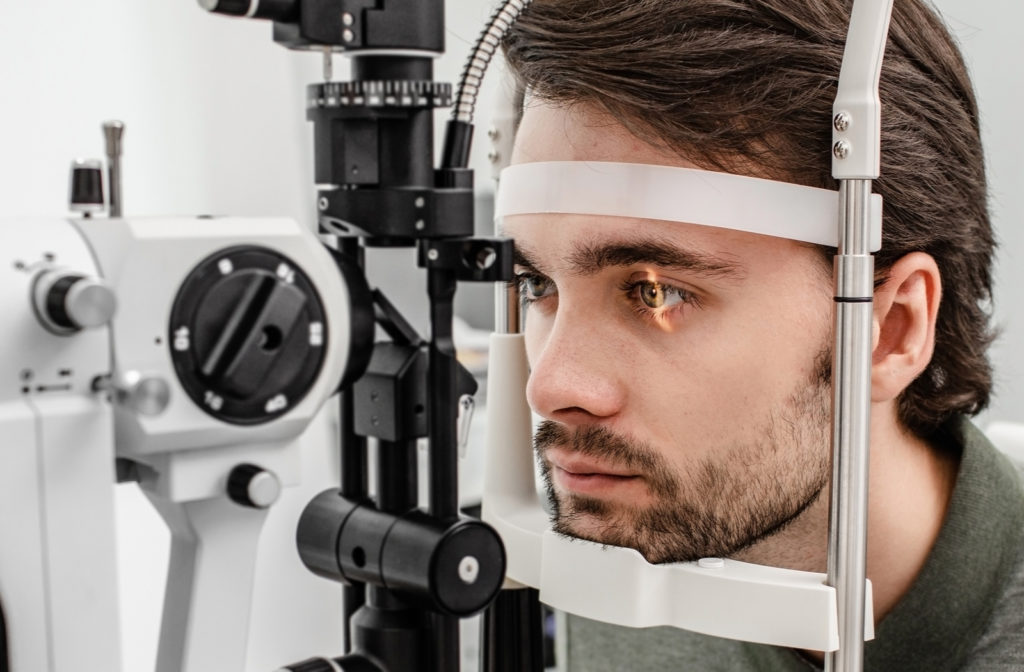 Book Your Next Eye Exam
At Calgary Optometry Centre, our experts are here to care for your eyes.
Regular eye exams can keep your eyes healthy for years to come! If you have any additional questions about eye exams, or if you're ready to book your next appointment, please give us a call.